The following appeared on the Christian Post website:
Harvard's Office of Student Life placed the university's largest Christian student group, Harvard College Faith and Action (HCFA), on a one-year "administrative probation" for asking one of its leaders to step down for having a lesbian relationship. A few days later, the College demanded that HCFA disaffiliate from its parent organization, the Christian Union, whose Statement of Ethics includes "The reaffirmation that sex belongs only in the context of marriage between a man and a woman."
Harvard has fallen a long way from its founding. John Eliot (1604-1690), who is known as the "Apostle to the Indians," first proposed a college for Massachusetts Bay in 1633. Eliot's desires were realized three years later in the founding of Harvard College. Harvard was named after John Harvard who donated his library to the fledgling institution and thus secured for himself a name in history. According to a New York Times news article (Oct. 18, 1884), a statue on the school's campus shows John Harvard resting his hand upon an open Bible.
Trending: Liberal Mayor Praised BLM Protests… Until Her Home Was Vandalized, Now It's 'Domestic Terrorism'
Extra credit: Do you know the three lies about the statue of John Harvard?1
take our poll - story continues below
Completing this poll grants you access to Godfather Politics updates free of charge. You may opt out at anytime. You also agree to this site's Privacy Policy and Terms of Use.
The founders of Harvard wanted the Christian legacy they brought with them from England to continue. One of the best ways to accomplish this was to train men for the gospel ministry as well as a comprehensive biblical worldview. The following history, taken from New England's First Fruits (1643), explains what led to the founding of Harvard College.
 After God had carried us safe to New England and we had built our houses, provided necessities for our livelihood, raised convenient places for God's worship, and settled the Civil Government: One of the next things we longed for and looked after was to advance Learning and perpetuate it to posterity; dreading to leave an illiterate ministry to the churches, when our present Ministers shall lie in the Dust.2
Fifty‑two percent of the seventeenth‑century Harvard graduates became ministers.3 The Puritans "did not distinguish sharply between secular and theological learning; and they believed that the collegiate education proper for a minister should be the same as for an educated layman. They expected that the early colleges would produce not only ministers but Christian gentlemen who would be civic leaders."4
While entry to Harvard required a thorough knowledge of Greek and Latin, a commitment to Jesus Christ and a belief that the Bible was the foundation for truth were even more essential. Harvard's "Rules and Precepts," adopted in 1646, included the following requirements:
Let every student be plainly instructed, and earnestly pressed to consider well, the main end of his life and studies is, to know God and Jesus Christ which is eternal life (John 17:3) and therefore lay Christ at the bottom, as the only foundation of all sound knowledge and learning.
And seeing the Lord only giveth wisdom, Let every one seriously set himself by prayer in secret to seek it of him, Prov. 2:3.
Every one shall so exercise himself in reading the Scriptures twice a day, that he shall be ready to give such an account of his proficiency therein, both in Theoretical observations of the language, and Logic, and in Practical and spiritual truths, as his Tutor shall require, according to his ability; seeing the entrance of the word giveth light, it giveth understanding to the simple, Psalm 119:130.
In 1692, Harvard adopted the motto Veritas Christo et Ecclesiae — "Truth for Christ and the Church." The phrase was embedded on a shield and can be found on many buildings around the Harvard campus and various dorms in Harvard Yard.
This phrase was embedded on a shield as shown to the right, and can be found on many buildings around campus including the Widener library, Memorial Church, and various dorms in Harvard Yard. Interestingly, the top two books on the shield are face up while the bottom book is face down. This symbolizes the limits of reason, and the need for God's revelation. With the secularization of the school, the current shield now contains only the word "Veritas"with three open books. (Harvard Christian GSAS Community)
A second and earlier (1650) Harvard motto carried the Latin phrase, In Christi Gloriam, "For the Glory of Christ." Samuel Eliot Morison, in his history of Harvard, writes, "Like the Medieval schoolmen, [the founders] believed that all knowledge without Christ was vain. Veritas to them . . . meant the divine truth."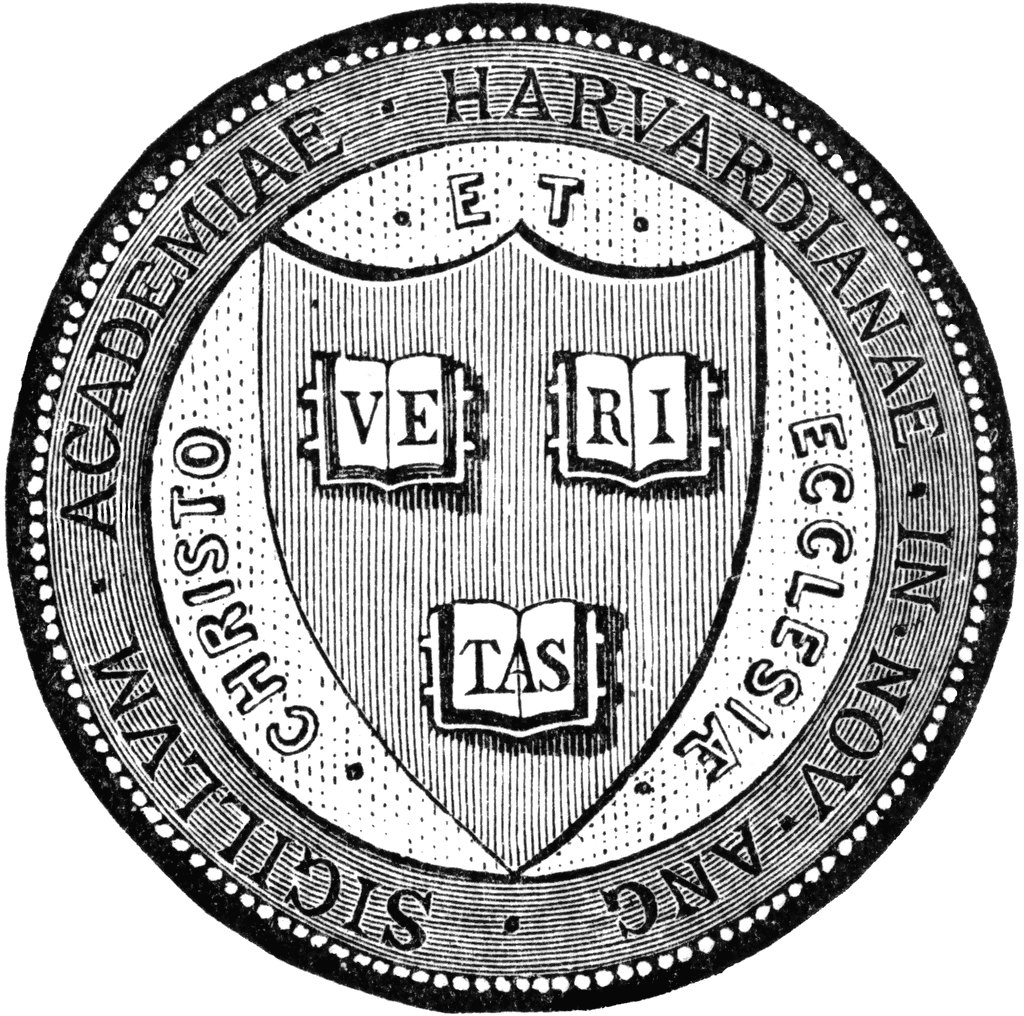 If it were only true today. Harvard, like so many of our nation's earliest colleges, has left its "first love" (Rev. 2:4).
Don't forget to Like Godfather Politics on Facebook and Twitter, and visit our friends at RepublicanLegion.com.
Become an insider!
Sign up for the free Godfather Politics email newsletter, and we'll make sure to keep you in the loop.