The Democrats throw around the word "hate" like they do "racism." It's the only way they know how to argue. If they can't make the race card stick, there's always the "hate" card to play. It covers a multitude of situations. It's like switching from Global Warming to Climate Change. Any time there's a change in a weather event, it's due to the climate changing. It's a political tautology.
The Southern Poverty Law Center (SPLC), a non-paid advertising arm for the Democrat Party, has created a multi-million-dollar industry with its lists of "haters" and "hate groups" while ignoring real hate rhetoric and violence among their own kind. For example, the Virginia shooter who seriously wounded Republican Congressman Steve Scalise and several others at a baseball practice early Wednesday in Alexandria, Virginia, was a fan of the Southern Poverty Law Center, and Floyd Corkins who in 2013 "stopped by Chick-fil-A to pick up 15 sandwiches and "planned to smear in the dying faces of staffers he expected to kill at the Family Research Council in Washington… At the time of the shooting, Corkins lived with his parents in Herndon, Virginia, and volunteered at a Washington center for the lesbian, gay, bisexual and transgender community."
Why did Corkins target the Family Research Council? "The Southern Poverty Law Center [had] listed the Family Research Council as a hate group since 2010, pointing to what it describes as its anti-gay propaganda and legislative agenda." (CNN) "Haters" have to pay for their hate.
Trending: Did Paul Harvey's 1965 Broadcast "If I Were the Devil" Predict America's Downfall?
The Virginia shooter was a left-wing hater who fed off the rhetoric of the Democrat Party and spewed a great deal of his own. His Facebook page was full of it, but the leftists at Facebook ignored it. They were too busy blocking conservative posts.
take our poll - story continues below
Completing this poll grants you access to Godfather Politics updates free of charge. You may opt out at anytime. You also agree to this site's Privacy Policy and Terms of Use.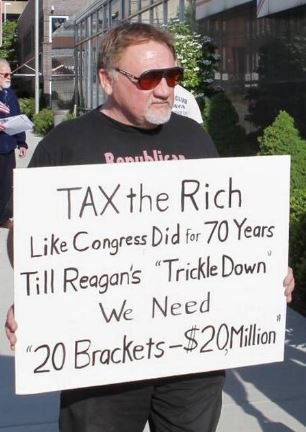 James Hodgkinson was envious. He wanted the rich taxed as his many letters to the editor at the Belleville News-Democrat reveal. "Tax the rich" is a call for wealth confiscation. If it's OK to elect people who will steal money from other people, then it should be OK to kill people to make it possible for more political thieves to get elected.
What do we get from the Left? MSNBC's "MTP Daily" host Chuck Todd said, "Folks, some want to blame the left or the right or us in the media. But here's who it seems too many folks don't want to blame themselves. We are all to blame. This toxic stew that passes for political discourse seems beyond repair in the current moment. Just look at social media."
"We're all to blame"? Actually, the shooter is to blame, but since Democrats have been talking about toxic rhetoric, it's time they take responsibility for some of their own. How many Democrats came out publicly and denounced Kathy Griffin's sick decapitation "joke"?
Tim Graham Graham, executive editor of NewsBusters, "spoke with Breitbart News Daily SiriusXM host Raheem Kassam on Thursday regarding the media's reaction to the shooting commented on MSNBC anchor Andrea Mitchell's reporting on the shooting by saying, 'In 2011, when Congresswoman Gabriel Giffords was shot, they jumped on the idea that this was the Tea Party. In Denver, they jumped on the notion that the shooter was the Tea Party. In both cases, they didn't have anything. Here, in this case, it's quite clear.'" (Breitbart)
Read the rest of the article at GaryDeMar.com
Don't forget to Like Godfather Politics on Facebook and Twitter, and visit our friends at RepublicanLegion.com.
Become an insider!
Sign up for the free Godfather Politics email newsletter, and we'll make sure to keep you in the loop.